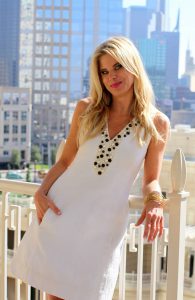 Alison Volk's twenty years of entertainment, fashion and PR experience allow her to present clients with valuable opportunities, resulting in maximized ROI. VOLK PR dedicates themselves to their clients by developing unique, creative strategies to actualize overall public relations and business goals.
VOLK PR works with clients to achieve their goals via comprehensive proposals that utilize business consultation, media relations, event marketing, community outreach, social media marketing, charity alignments and personal networking. Clients of Volk PR gain access to a network of strategic relationships, personally developed and nurtured by Alison Volk, President and Publicist.
Alison worked at Neiman Marcus throughout high school and college. Double majoring in Marketing and Fashion Merchandising, Alison decided to study in London her senior year, where she acquired a passion for travel and culture. Upon graduation she spent two and a half years living/working abroad in New Zealand, Australia, and Europe.
Alison then moved to Los Angeles, where she worked in event production, global promotions, consumer products and licensing for Sony Pictures Entertainment and MGM. Drawing from her experience in entertainment and fashion, she went on to manage Tarina Tarantino's showroom and ultimately opened a men's and women's boutique —Volk, his and hers. While owning and operating the boutique, she conducted PR and styling for both designers and talent, segment production and hosting, and business development for city council.
Following 10 years in Manhattan Beach, Alison decided it was time to move home to be near her family. She consulted for local designers (including Abi Ferrin), produced Tailgate with PPW for Superbowl and assumed the position as the Director of Business Development and PR for TOOTSIES. Over a decade, Alison has represented a variety of talents, industries and businesses, and when her father's book was published in October 2011, Alison was inspired to focus full-time on PR.
Alison Volk is a 4th generation Dallasite—her great-grandfather started Volk Brothers department stores in 1880 and her grandfather founded Volk Estates. Alison is very involved with roles in the community and volunteers much of her time to non-profits such as: DIFFA (board member), JLD, Miracle Players Foundation, Family Gateway, Dress for Success, Attitudes and Attire, American Foundation for the Blind, Dallas Children's Theatre, and many more.